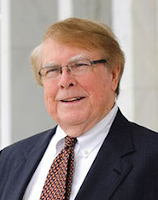 Terrell W. Benton, Jr.
Firm: Hall Booth Smith, P.C.
Location: Athens - GA
440 College Avenue North




Suite 120




Athens, GA 30601
Tel : 706.316.0231

Fax : 229.888.2156

Email : tbenton@hallboothsmith.com

Terrell W. Benton, Jr. has been a Partner at Hall Booth Smith since September 2003, and he focuses his practice on the full range of education and employment related matters.
He spent his career representing public school districts and served as General Counsel to three school districts in Georgia. He also served as hearing officer in fair dismissal cases involving certificated employees in more than a dozen counties.
Terrell previously served on the Executive Committee of the Counsel of School Board Attorneys for the Georgia School Boards Association, and was president twice.
Terrell was admitted to the Bar December 11, 1962, and he is AV® Preeminent™ Peer Review Rated by Martindale-Hubbell.
Terrell has represented the interests of insurers and private businesses in many employment matters including preparation and evaluation of employment agreements, restrictive covenants, independent contractor agreements,  and broker agreements. He has also defended business entities against discrimination claims based on race, religion, national origin, sex disability and age. Terrell has represented employers in claims involving Title VII, FLSA, FMLA, ADEA, and ADA.
Terrell has extensive experience representing public school districts as well as certificated employees.  Terrell's personal knowledge of the educational system of Georgia helps Terrell represent his clients with the finest advice and counsel. He has represented elected officials and school administrators on issues related to employment, equity and discrimination, school safety and security, special education, student rights and discipline, and records management.
---
Hall Booth Smith, P.C.
Established in 1989, Hall Booth Smith, P.C. (HBS) is a full-service law firm with six regional offices strategically located throughout Georgia, as well as offices in Birmingham, AL; Jacksonville, N. Palm Beach and Tallahassee, FL; Asheville and Charlotte, NC; Charleston, SC; and Memphis and Nashville, TN; Saddle Brook, New Jersey. Experienced across a wide range of legal disciplines, HBS prides itself on providing knowledgeable, proactive, client-specific counsel to individuals, domestic and international corporations, state and federal agencies, and nonprofit organizations.
At HBS, we possess the legal knowledge, skill and experience to meet our clients' needs wherever they do business. HBS maintains the highest commitment to ethically and professionally serve our clients by providing the highest quality legal representation.
Hall Booth Smith, P.C. (HBS) delivers quality legal services in a variety of practice areas for 30 years. Experience across legal disciplines combined with a focus on the unique business or personal requirements of the client is the hallmark of the firm. Our clients receive the attention, expertise, and cost-effectiveness of a smaller law firm with a full-service and strong regional presence typical of a large law firm.
At HBS, we have the highest commitment to excellence in serving our clients. Our mission is "To ethically and professionally serve our clients by providing the highest quality legal representation in a personally satisfying firm environment." Our promise –"Serving to Achieve Excellence"