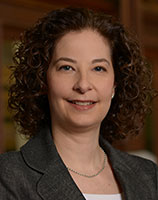 Laura G. Anthony
Firm: Bricker & Eckler LLP
Location: Columbus - OH
100 South Third Street




Columbus, OH 43215-4291




USA
Tel : 614.227.2366

Fax : 614.227.2390

Email : lanthony@bricker.com

Laura Anthony chairs the Education Law practice group. Her practice focuses on issues involving special education, student discipline, civil rights claims and employment law. She advises boards of education, higher education clients, county boards of developmental disabilities and other entities on issues arising under various state and federal laws and regulations, including the Individuals with Disabilities Education Act, the Americans with Disabilities Act, Section 504 of the Rehabilitation Act, the Family Educational Rights and Privacy Act, and the Family and Medical Leave Act. She defends school districts and other public entities against employment discrimination claims and other administrative and judicial actions, and serves as a mediator for disputes involving K-12 schools, colleges and universities and other public entities.
Laura's special education practice includes counseling school personnel on compliance standards, training staff, attending IEP meetings and mediation sessions, representing school districts in due process hearings and related litigation, and responding to special education and other disability related complaints. She advises school districts on student issues regarding custody, residency, discipline, tuition, transportation, athletic participation and constitutional rights. Laura has conducted numerous workshops on a wide variety of legal topics for regional, state and national education organizations as well as individual school districts. She currently serves as a board designated hearing officer for student disciplinary appeals and has served as a Judicial Law Clerk to Judge Thomas F. Bryant of the Third District Court of Appeals.
Professional & Community Activities
Member, Board of Trustees, Friends of the Columbus Metropolitan Library
Former Member, Executive Committee, Ohio School Boards Association Council of School Board Attorneys
Member, National School Boards Association Council of School Attorneys
Member, National Association of College and University Attorneys
Member, Leadership Columbus Class of 2008
Volunteer, Ohio Center for Law Related Education – Mock Trial Program
---
Bricker & Eckler LLP
As the single largest legal group in Ohio dedicated specifically to education, our attorneys represent a wide range of educational entities, including well over 200 public school districts and numerous educational service centers across the state. We work with administrators to put proactive plans in place and, when needed, address any student, employee and community issues that may occur.
We advise educators on social, technological and legal student issues. These include student suspension/expulsion, student policies and handbooks, bullying, transportation, open enrollment, student privacy, discrimination, religious speech/activities, school fees and extracurricular activities, to name a few. Our attorneys also practice in every aspect of special education and disability law.