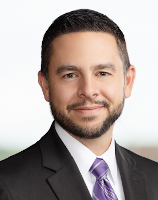 Jason T. Clagg
Firm: Barnes & Thornburg LLP
Location: Fort Wayne - IN
888 S. Harrison Street




Suite 600




Fort Wayne, IN 46802
Tel : 260-425-4646

Fax : 260-424-8316

Email : jason.clagg@btlaw.com

Jason practices in the specialized area of education law, with a focus on employment and student disability matters. He has represented both public and private schools, from the elementary to the collegiate level, in numerous courts and administrative settings, including before the Office of Civil Rights, the Department of Education and in due process hearings. Jason has experience with Section 504 of the Rehabilitation Act, the Individuals with Disabilities Education Act and Indiana's Article 7. He regularly trains and advises schools on these laws as well.
Jason is appreciated for his consistent ability to help clients through often stressful and potentially expensive personnel problems. Committed to exceeding expectations and to coming in at or under budget, Jason's persistent, creative and persuasive defense strategies are grounded in practical, workable solutions.
With a practice focused exclusively on management interests, Jason routinely represents employers in state and federal court, before administrative agencies such as the Department of Labor (DOL), the National Labor Relations Board (NLRB), and the Equal Employment Opportunity Commission (EEOC), and in labor arbitrations. Jason has effectively represented management in Fair Labor Standards Act (FLSA) wage and hour disputes, unfair labor practices under the National Labor Relations Act (NLRA), and claims of harassment, discrimination and wrongful discharge.
Moreover, Jason helps employers draft, defend and contest non-compete agreements and address the misappropriation of trade secrets in numerous states. In addition to contested matters, he devotes much of his practice to daily client counseling, drafting employment agreements and training personnel on a variety of topics.
---
Barnes & Thornburg LLP
Barnes & Thornburg serves as counsel to educational institutions of all sizes. Our attorneys advise on employment issues such as due process, tenure, constitutional and civil rights, terminations, discipline, evaluations, discrimination, retaliation, harassment, leave, accommodations, benefits and compensation, teacher and administrator training, and collective bargaining and grievance.
Our attorneys serve as trusted advisers to countless college and university presidents and senior administrators. We understand the enormous scrutiny under which educational organizations must operate as they deal with matters that can become highly publicized and with potentially devastating effects upon public and private supporters.
As schools are the bedrock of their communities, our team helps keep them operationally and fiscally sound. We work with clients to prepare and file applications for charter schools and advise on compliance matters involving state and local regulators, nonprofit status and incorporation documents. We advise on authorizer requirements, as well as work with authorizers to develop processes related to charter schools. We assist in the creation and development of partnerships that serve the needs of students at all levels, and have negotiated school innovation network agreements.