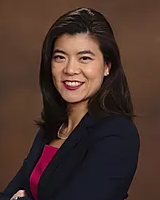 Grace E. Kim
Firm: The Law Office of Grace E. Kim
Location: Fairfax - VA
11325 Random Hills Road Suite 360-110




Fairfax, VA 22030




USA
Tel : 703.225.3395

Fax : 703.225.3333

Email : gekim@gekimlaw.com

Grace has been working on behalf of children with Special Needs since 2002 as a mother of a Special Needs child; a paralegal and law clerk who focused on Special Education, School Law and Juvenile Justice; and an attorney dedicating her practice to representing families of Special Needs children with legal and education-related issues.  She is a J.D. graduate of the George Mason School of Law and has an M.A. from Alliance Theological Seminary and a B.A. from Nyack College.  A native of Seoul, South Korea, she has lived in the United States, Mexico, and India, and has traveled throughout Asia and Europe, working with various faith-based nonprofit organizations, and speaks English, Korean, and Spanish proficiently.
---
The Law Office of Grace E. Kim
Families of children with special needs face unique challenges. These may include educational challenges due to the nature of the child's disability. Under the Individuals with Disabilities Education Act (IDEA), Section 504 of the Rehabilitation Act of 1973, and the Americans with Disabilities Act (ADA), students with disabilities are entitled to a Free and Appropriate Public Education (FAPE). However, school districts may fail to provide disabled students with the necessary Goals, Accommodations, Services, and Placement that they are guaranteed under the law. This can lead to situations in which a student is disciplined for behaviors that are a manifestation of their disability, and are in essence punished for their disability. Grace Kim has the passion, knowledge and skill to assist your family through these and other special education and education law-related situations. Contact us today to schedule an initial consultation regarding your child's case.