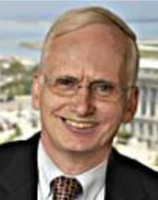 Franklin J. Hickman
Firm: Hickman & Lowder Co., LPA
Location: Cleveland - OH
1300 East Ninth Street,




Suite 1020




Cleveland, OH 44114
Tel : (216) 861-0360

Fax : 216-861-3113

Email : Info@Hickman-Lowder.com

He has represented families in special education cases since 1975 in negotiations, mediation, due process proceedings and cases in all courts, including the U.S. Court of Appeals for the Sixth Circuit. He spends a major part of his practice on cases under the Individuals with Disabilities Education Act (IDEA), which defines and protects rights of children who need special education.
Frank has received numerous awards.  He has been named an Ohio Super Lawyer since 2012 and among the Best Lawyers in America since 2014, including Lawyer of the Year honors for Education Law in Cleveland.  In 2018, he received a Lifetime Achievement Award from the Ohio Association of County Boards Serving People with Developmental Disabilities.  He was also inducted in the Cuyahoga County Board of Developmental Disabilities Hall of Fame.  In addition, he received the 2006 President's Award for Partnering in Quality from the Ohio Association of County Behavioral Health Authorities, the Community Service Award from North Coast Community Homes in 2001, and the John Minor Wisdom award for Public Service and Professionalism from the American Bar Association Litigation Section in 1994.
During his nine years as a member of the Law Reform Unit of the Legal Aid Society of Cleveland, Frank brought numerous successful class actions establishing and defining the treatment rights of patients in psychiatric hospitals and state institutions for the developmentally disabled, and of inmates with psychiatric problems. He was founder and director of the Cleveland Bar advocacy project which sponsored education programs for the private bar and conducted extensive advocacy work in the establishment of group homes.
Attorney Franklin J. Hickman has focused his career on legal issues affecting persons with mental disabilities since his graduation from the University of Pennsylvania School of Law in 1973, where he received the Wiley C. Rutledge Memorial Award. Frank's first major case established the right of indigent persons in Ohio to have legal counsel provided at public expense at their civil commitment proceedings.
---
Hickman & Lowder Co., LPA
We believe in the value of each human being, and that everyone, regardless of age, health, or capacity, deserves the best life possible.
Each attorney at Hickman & Lowder chose to practice law because it allows us a meaningful way to advocate for people whose lives are complicated by special concerns and frustrated by an impersonal, imperfect system.
It's important to us to find out where you're coming from, to learn your stories, and provide you with a safe space to experience this big thing with as little added stress as possible. When we can zero in together, and offer you clarity, options, nourishment, support, we honor what's most central to you and your family.
For nearly four decades, we have been on the forefront of transforming access to guidance and care, literally changing the legal terrain in our areas of practice. Our unique and authoritative lens on this terrain, and our steadfast, conscious commitment to meeting your needs with compassion, combine to provide YOU a new vantage on your challenges. No matter where you're coming from, we have ideas that can expand your awareness, reduce your stress, and redefine what is possible.