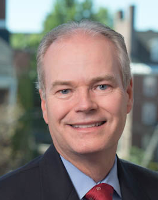 Dean B. Eggert
Firm: Wadleigh, Starr and Peters, P.L.L.C.
Location: Manchester - NH
95 Market Street




Manchester, NH 03101




USA
Tel : (603) 206-7209

Fax : (603) 669-6018

Email : deggert@wadleighlaw.com

Dean has extensive experience representing school districts throughout the state in matters involving general school law and federal special education law. He is also an AV-rated jury trial lawyer with trial experience in the area of commercial litigation, products liability defense and municipal representation. He has represented manufacturers, distributors, banks, retailers and developers in complex commercial litigation, including computer conversion, anti-trust, products liability, breach of contract, land use and unfair competition cases.
Dean served as outside legal counsel for the City of Manchester School District from 1985 to 2008 and handled the litigation which led to the establishment of the District as a distinct corporate entity. Dean has authored numerous articles in the field of school law and lectures both locally and nationally on federal special education law and other school law issues. He is certified as a mediator and has served as a court-appointed mediator in over 80 cases.
Distinctions
AV rated, Martindale Hubbell
Best Lawyers in America, 2012-2019
Best Lawyers in America, 2019 Lawyer of the Year, Manchester – Education Law
UCLA Law Review, 1983-1985
Memberships And Afiliations
New Hampshire Bar Association
American Bar Association
Manchester Bar Association
New Hampshire School Boards Association
Christian Legal Society
State Ballott Law Commission, alternate member
SAMBA International, board member
Center Point Church, Concord, NH, Council of Elders
Concord Christian Schools, past Chairman of the Board
CBNA and Cornerstone Construction Ministries, past director
Dean has been active in local, national and global relief projects, including hurricane relief and reconstruction. Dean serves on the Board of Good Soil Partners, Inc., a nonprofit organization which provides secondary and post-secondary scholarships to young women and men in Malawi, Africa.
---
Wadleigh, Starr and Peters, P.L.L.C.
Our attorneys have experience advising school districts on all aspects of education law, including but not limited to: after school programs, AREA Agreements, attendance, board hearings, bullying, child abuse and neglect reporting requirements, charter school issues, contract negotiation/review, cyberbullying, disability rights, district of liability determinations, discrimination claims, educational Standards, the Family Educational Rights and Privacy Act (FERPA), field trip access, First and Fourth Amendment issues, home school issues, Immigration issues, investigations, Joint Maintenance Agreements, the McKinney-Vento Homeless Act, No Child Left Behind Act (NCLB) compliance, policy development and interpretation, religious freedom issues, residency issues, including district of liability issues, policy development, Right-to-know law matters, safe schools reporting act, school budgets/finance, school choice, school nursing standards; Section 504, sexual harassment, student discipline, student privacy, tuition agreements, Title IX, transgender issues, and transportation.
The School Law team is a full service solution for school districts and school administrative units. We represent school districts and school administrative units throughout the State in all areas of school law, including general matters, student discipline, special education, civil rights, bullying, labor relations, personnel matters, the right-to-know law, school finance, tuition agreements, contracts, bonding issues, and district/school administrative unit reorganization. When a client matter crosses disciplines, the team has the ability to draw upon a wide range of attorney resources in the area of commercial transactions, real estate conveyances, land-use, or any other practice area of the firm. In addition, the school attorneys are active in the support of education on a national, regional and state-wide basis, primarily through professional development lectures, seminars, and the support of various legislative initiatives.