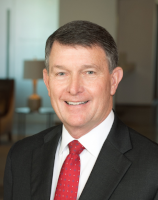 David R. Boyd
Firm: Balch & Bingham LLP
Location: Montgomery - AL
105 Tallapoosa St., Suite 200




Montgomery AL 36104




USA
Tel : (205) 226-3485

Fax : N/A

Email : dboyd@balch.com

Practicing in both the Birmingham and Montgomery offices of the firm, and with strong ties to Alabama's business, government, and higher education sectors, Dave Boyd is regularly involved in complex, high-stakes disputes. Dave's diverse litigation practice has included representation of some of the country's largest companies both at trial and on appeal in cases about energy, the environment, intellectual property, insurance, employment, engineering, shareholder rights, certificates of need, excessive punitive damages, and many other subjects. His long experience in the state's capital city has also positioned him well to assist clients in dealing with state agencies and officials. Complementing his law practice, Dave has a career-long record of service to the legal profession for which he has been recognized on numerous occasions.
Select Matters
Headed the firm's litigation team representing Georgia Power Company and the other owners of the first new nuclear generating units licensed in the United States in several decades. The case against the vendor and general contractor involved numerous complex nuclear licensing, engineering, and construction issues, and was settled favorably to the owners after extensive discovery. (Georgia Power Co. v. Westinghouse Electric Co., No. 1:12-CV-00167 (S.D. Ga.) (2016))
Represented Exxon Mobil Corporation on fraud and breach of contract claims involving alleged underpayment of natural gas royalties to the state of Alabama.  Multi-year litigation involving two trials and subsequent appeals eventually resulted in reversal of the fraud verdict and all punitive damages, along with part of contract damages. (Exxon Mobil Corp. v. Ala. Dept. of Conservation & Nat. Resources, 986 So. 2d 1093 (Ala. 2007))
Temporarily joined the firm's healthcare team to prepare and try the longest, most complex certificate of need case in Alabama's history; and to successfully defend the administrative agency victory through trial and appellate court review.  Over the determined opposition of other major Birmingham hospitals, the firm's client was ultimately authorized to relocate and to construct a new state-of-the-art medical center in a prime location. (Brookwood Health Services, Inc. v. Affinity Hospital LLC, 85 So. 3d 1033 (Ala. Civ. App. 2011), cert. denied, 129 So. 3d 1033 (Ala. 2013))
Represented defrauded investor in federal lawsuit against the "inventor" of a purported process to convert cellulosic matter to diesel fuel and a competing Silicon Valley investor. The case resulted in a federal court jury verdict for the client-investor and the eventual recovery of substantial damages against the bogus inventor. (Parsons & Whittlemore Enterprises Corp. v. Cello Energy, No. 1:07-CV-00743 (S.D. Ala.) (2009))
Represented Auburn University against class action claims that its mandatory student dining plan violated state antitrust and constitutional laws. The case was successfully defended on state action immunity grounds and affirmed on appeal.  (Vandenberg v. Aramark Educational Services, Inc., 81 So. 3d 326 (Ala. 2011))
Representation for 30 plus years of a major public university, as primary outside counsel, on a wide range of matters including business, employment, constitutional and other governmental litigation. (Ongoing)
---
Balch & Bingham LLP
Balch & Bingham LLP is a corporate law firm with more than 200 attorneys across offices in Birmingham and Montgomery, Alabama; Jacksonville, Florida; Atlanta, Augusta and Vidalia Georgia; Gulfport and Jackson, Mississippi; and Washington, D.C. We are recognized for our deep experience serving clients in regulated industries, including energy, financial services and healthcare, and our established practices in business, environmental, government relations, labor and employment and litigation. Our firm's professional, collegial culture is inspired by nationally ranked attorneys who combine business intelligence and industry leadership with high-quality legal counsel to anticipate and respond to corporate challenges both creatively and proactively. We manage our client partnerships with efficient processes and transparencies that result in an uncommon, value-driven client experience. Balch & Bingham was founded in 1922.