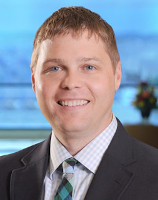 Cullen B. Casey
Firm: Anderson, COE & King, LLP
Location: Baltimore - MD
7 Saint Paul Street, Suite 1600




Baltimore, MD 21202




USA
Tel : 443-573-9311

Fax : 410-752-0085

Email : casey@acklaw.com

Cullen Casey represents private and public educational institutions, health care providers, hospitals, corporations, and non-profit entities.  In addition to providing general legal counsel, Cullen has years of experience litigating matters before federal and state courts on a variety of issues including employment disputes, student rights and discipline, medical malpractice, professional liability, personal injury claims, insurance coverage, and construction disputes.  Cullen also regularly advises clients through administrative matters involving the Maryland Commission on Civil Rights, the U.S. Department of Education Office for Civil Rights, and the Equal Employment Opportunity Commission.
Cullen has given numerous presentations and published articles on various employment and education law topics, including authoring a revised chapter for the National School Boards Association Council of School Attorneys' publication – Religion and the Public Schools: Striking a Constitutional Balance (3d ed).  Prior to joining Anderson, Coe & King, Cullen was a staff attorney for the National School Boards Association and an associate with the Thrun Law Firm in East Lansing, Michigan where he represented hundreds of public schools and colleges throughout Michigan.
Representative Cases and Reported Opinions
Williams v. Wicomico Cnty. Bd. of Educ., 2012 WL 4517745 (D. Md. Oct. 1, 2012) aff'd, 512 F. App'x 277 (4th Cir. 2013)
Chesapeake Bay Found., Inc. v. Weyerhaeuser Co., 848 F. Supp. 2d 570 (D. Md. 2012)
Charter Oak Fire Ins. Co. v. Marlow Liquors, LLC, 908 F. Supp. 2d 673, 677 (D. Md. 2012)
Savoy v. Charles Cnty. Pub. Sch., 798 F. Supp. 2d 732 (D. Md. 2011)
Hanifee v. Bd. of Educ. of Kent Cnty., 2010 WL 723772 (D. Md. Feb. 24, 2010)
Baker v. Kent Cnty. Bd. of Educ., 2007 WL 2694210 (D. Md. Sept. 10, 2007)
Harrison Educ. Support Pers. Ass'n v. Harrison Cmty. Sch. Bd. of Educ., 2007 WL 1452534 (Mich. Ct. App. May 17, 2007)
Belding Educ. Assoc., MEA/NEA, v Belding Area Sch., 20 MPER ¶ 105 (October 31, 2007)
Harmon v. Baldwin Cmty. Sch., STC 06-25 (Mich. State Tenure Comm'n Mar. 8, 2007)
Baldwin v. South Lyon Cmty. Sch., STC 06-17 (Mich. State Tenure Comm'n Oct. 12, 2006)
Bourgeois v. Buchanan Cmty. Sch., STC 05-38 (Mich. State Tenure Comm'n Aug. 16, 2006)
In the Matter of Golembiewski, STC 05-42 (Mich. State Tenure Comm'n May 24, 2006)
---
Anderson, Coe & King, LLP
Anderson, Coe & King's roots in the Baltimore legal community extend to back to 1866, when, shortly after leaving the Union Army, Pennsylvanian Samuel D. Schmucker moved to Baltimore to launch his legal career. Along with George Whitelock, a Baltimore native, he formed the law firm Schmucker & Whitelock. The pair built a thriving, prosperous practice known for its innovative approach to litigation.
Near the turn of the century, the firm changed its name to Whitelock, Deming & Kemp after Mr. Schmucker was elevated to the Maryland Court of Appeals. Following Mr. Whitelock's death in 1920, the remaining partners, Mr. Deming and Mr. Kemp, merged with Keech, Wright & Carman, creating the firm of Keech, Deming, Kemp & Carman. As was the custom in earlier years, the firm continued to change its name as new partners came aboard and others retired or passed away. Since 1964, however, the firm has been known as Anderson, Coe & King.
Though the firm has always been modest in size, it has left a decidedly large imprint on Maryland law, leading the State's trial bar for more than a century. Over the years, the firm's lawyers have participated in over 500 reported opinions and handled many high-profile cases for national clients, several of which have been with the firm for over a century.