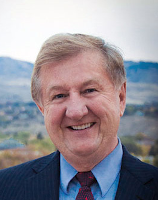 Brian K. Julian
Firm: Anderson, Julian & Hull, LLP
Location: Boise - ID
250 S. 5th Street, Suite 700 Boise, ID 83702




Boise, ID 83702




USA
Tel : 208-344-5800

Fax : 208-344-5510

Email : bjulian@ajhlaw.com

Mr. Julian has been a litigator for 35 years. For 25 of those years, he has held an AV rating which is defined as preeminent by Martindale-Hubble.
He is recognized as an authority in education law, employment law, labor law, and general litigation.
From Tribal Court to the U.S. Supreme Court, Mr. Julian has represented his clients in a variety of forums.
By sharing his experience, cases that should be tried are typically won, and cases that should be settled are settled reasonably.
With approximately 100 trials in experience, Mr. Julian has represented the largest corporations in the United States as well as individual parties in litigation.
Additionally, a significant portion of Mr. Julian's time is devoted to advising clients on commercial transactions, employment decisions, policy creation, and alternative dispute resolution.
He considers himself a very lucky person to have enjoyed a profession for so many years with the opportunity to serve so many.
Mr. Julian, as founder and senior partner of Anderson, Julian & Hull, LLP, has vast experience in the areas of education law, employment law, insurance, personal injury, complex commercial litigation, defense of governmental entities, anti-trust, civil rights, products liability, professional liability, construction law, real estate, commercial transactions, and appeals. He has recently been trained as a court certified mediator.
Mr. Julian has lectured to numerous governmental entities and private employers regarding employment law, disability law, discrimination issues, and various other critical employment law points. He has lectured on insurance law coverage and punitive damage issues.
He is the sponsor of the annual Education Law Institute presented annually to school board attorneys, trustees, teachers and administrators.
---
Anderson, Julian & Hull, LLP
Anderson, Julian & Hull, LLP is dedicated to providing skilled and comprehensive legal services to a wide range of clients.
No matter how large or small the case, our mission is to satisfy our clients' needs with a focus on efficiency, cost effectiveness and personal service. At Anderson, Julian & Hull, we understand that clients need a legal team with the skill for conveying the complex, while keeping it simple and understandable to a judge or jury.
We are committed to meeting the evolving needs of our clients, which includes enhanced services through the use of technology.
Our attorneys and staff members are proficient in the use of a variety of research technology, computer programs, and other electronic tools.
Our organizational structure ensures every client receives the benefit from working with a highly skilled legal team that is not only an expert in their practice areas, but also balanced with fresh ideas and "tried and true" experience.
The attorneys and staff at Anderson, Julian & Hull share an energized work ethic and client-centered practice philosophy.